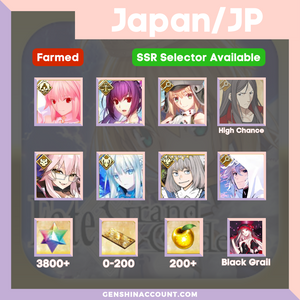 FGO Fate/Grand Order Archetype: Earth Skadi (Ruler) Castoria Waver Farmed Starter Account - 3800+ Quartz ( Japan )
Regular price
$19.99
$0.00
Unit price
per
Starter Account Info
Available Server: Japan
Login: Transfer Code
Operating System: iOS/Android
Progression: Lostbelt
Resource
500+ Saint Quartz | 5X Morgan + Archetype: Earth + Koyanskaya of Light + Skadi (Ruler) + Lady Avalon + Castoria + Oberon + Waver (High chance)
3400+ Saint Quartz | Koyanskaya of Light + Skadi (Ruler) + Castoria + Oberon + Merlin + Waver (High chance) | The Black Grail
3400+ Saint Quartz | Tiamat + Lady Avalon + Koyanskaya of Light + Skadi (Ruler) + Castoria + Skadi + Oberon + Merlin + Waver (High chance) | The Black Grail
1500+ Saint Quartz | 5X Morgan + Archetype: Earth + Koyanskaya of Light + Skadi (Ruler) + Lady Avalon + Castoria + Oberon + Waver (High chance)
---
Share this Product
10/10.
Amazing job! Imo for this one choose either option 2 or 3, great amount of SQ (Trust me you're gonna need it)
Amazing Account
Quite a good deal for what you get
Refund
The account had a problema, they guaranteed a refund
Nice
I bought option 1: the servants promoted in the respective option "all those in the promotional image except for merlin in my case" and many 4 stars, 850 sq, 8 golden tickets, black grail is not included in this option, lostbet 7 clear.
as someone who wanted to get oberon i definitely recommend it.
Was even better then expected
Came with more quartz. More dupes of some characters. They also gave me the account fast
---