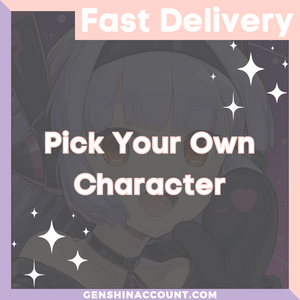 Epic Seven Selective Starter Account ( Global | Europe | Asia | Japan | Korea )
Regular price
$1.00
$0.00
Unit price
per
*PLEASE FOLLOW THE STEPS TO ACQUIRE YOUR SELECTIVE ACCOUNT. $1 is NOT the actual price*
Step 1: Choose the Service
> All Server < (Nickname Changeable)
> Global < 
> Asia1 <
> Asia2 <
> Korea <
Step 2: Pick the Character(s)
Step 3: Get the Quote via Discord/Email
Discord: GenshinAccount#2227
Email: help@genshinaccount.com
Step 4: Enter the Amount in Quantity and Pay!
---
Share this Product
Fast responding seller
I never purchased from genshinaccount before, but I was willing to give it a chance since they had their own website compared to other sellers on epicnpc. Thankyfully I did this since they answered all my questions, as well as helped me purchase my first account for epic seven. Will 100% buy from them again!
It's actually good and decently priced
I've bought many accounts actually, and it's not bad of a pricing. The delivery is alright and the responses too. 10/10 but my guilty conscience tells me to stop.
Epic Seven Selective Starter Account ( Global | Europe | Asia | Japan | Korea )
Fast and quick. But use email
Very quick and fast service. Seller was very fast to respond and gave account almost immediately. Just make sure to use email, as it seems to be faster than discord. Second time buying from this site, and I will say I recommend it!
Satisfied
This is my 4th time of buying accounts from this website, cant lie im pretty satisfied bcs everything was as described. Though this time when i bought this specific account it took some effort overall pretty good!
---